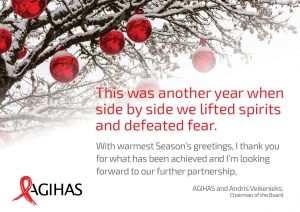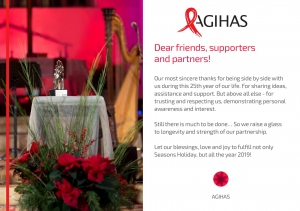 Baltic Coalition for PLWHIV – established
 Last weekend (more precisely – on February 16th) during the meeting of representatives of several HIV/AIDS NGOs* from five countries of Baltic sea region, a new non-governmental organization – "Baltic Coalition for PLWHIV" (abbreviated as "NGO BaCo") was established. This important initiative was brought forward by AGIHAS – Support group for people living with HIV/AIDS, and it means that Latvia has become a uniting core, which unifies and guides those Baltic Sea region NGOs, focusing  their efforts towards lessening the spread of HIV infection and risks and stigma associated with it. Also the NGO's office will be located in Riga.
 The goal of the organization is to create, throughout the region countries, life improvements and recognition of the rights of those affected by HIV/AIDS as well as to inform and educate the society, patients and those around them on the HIV infection, its risks and prevention tools, and finally increase adherence to HIV diagnostics, therapy and disease management. Shortly, a medium-five year strategy will be created, as well as action plan for a two year period set up. Even though the founders of the organization, excluding Latvia, currently represent four of the Baltic sea region countries – Germany, Poland, Estonia and Lithuania, the organization's doors are open – Denmark is expected to join soon, as well as talks of joining are on the way with representatives of Finland's, Norway's, Sweden's non-governmental HIV/AIDS organizations. The board of the recently established NGO is elected for three years; its chairman is Aldis Juksējs (Latvia); the members – Jury Kalikov (Estonia) and Victor Trofimov (Germany).
Aldis Juksējs, the chairman of the board of Baltic Coalition for PLWHIV: "The beginning of the newly created organization goes back to May 2016, when AGIHAS within the framework of ViiV Healthcare supported project "Coalition for change" organized a conference for the HIV/AIDS patient organizations and other supporting NGOs of Baltic sea region countries – Estonia, Finland, Sweden, Norway, Denmark, Germany, Poland and Latvia; its goal was to show the real picture of health care (incl. access to therapy)  available to  HIV/AIDS patients of these countries and share experience and best practice from partner organizations. This first meeting was followed by another one, which took place last September and clarified the need for further, but more structured and sustainable cooperation."
During the organization's establishment meeting all the participants unanimously agreed that all its operational activities will cover all the society groups, since HIV infection has long overstepped the borders of risk populations thus exposing to risk each one society member; that's why most importantly the stigmatization (prejudices, fear and ignorance) must be lessened, but overall  testing and prevention awareness – increased, so ignorance and lack of knowledge would cease to be the leading factors in new HIV infections.
For additional information, please, call or write:
Aldis Juksējs
baco5@inbox.lv
+ 371 20 207 737
* Founding organizations of Baltic Coalition for PLWHIV :
Support group for people living with HIV/AIDS (Latvia)
AIDS-i Tugikeskus (Estonia)
Berliner Aids-Hilfe e.V (Germany)
Association of HIV affected women and their families "Demetra" (Lithuania)
National Network of PLWHA "SIEC PLUS" (Poland)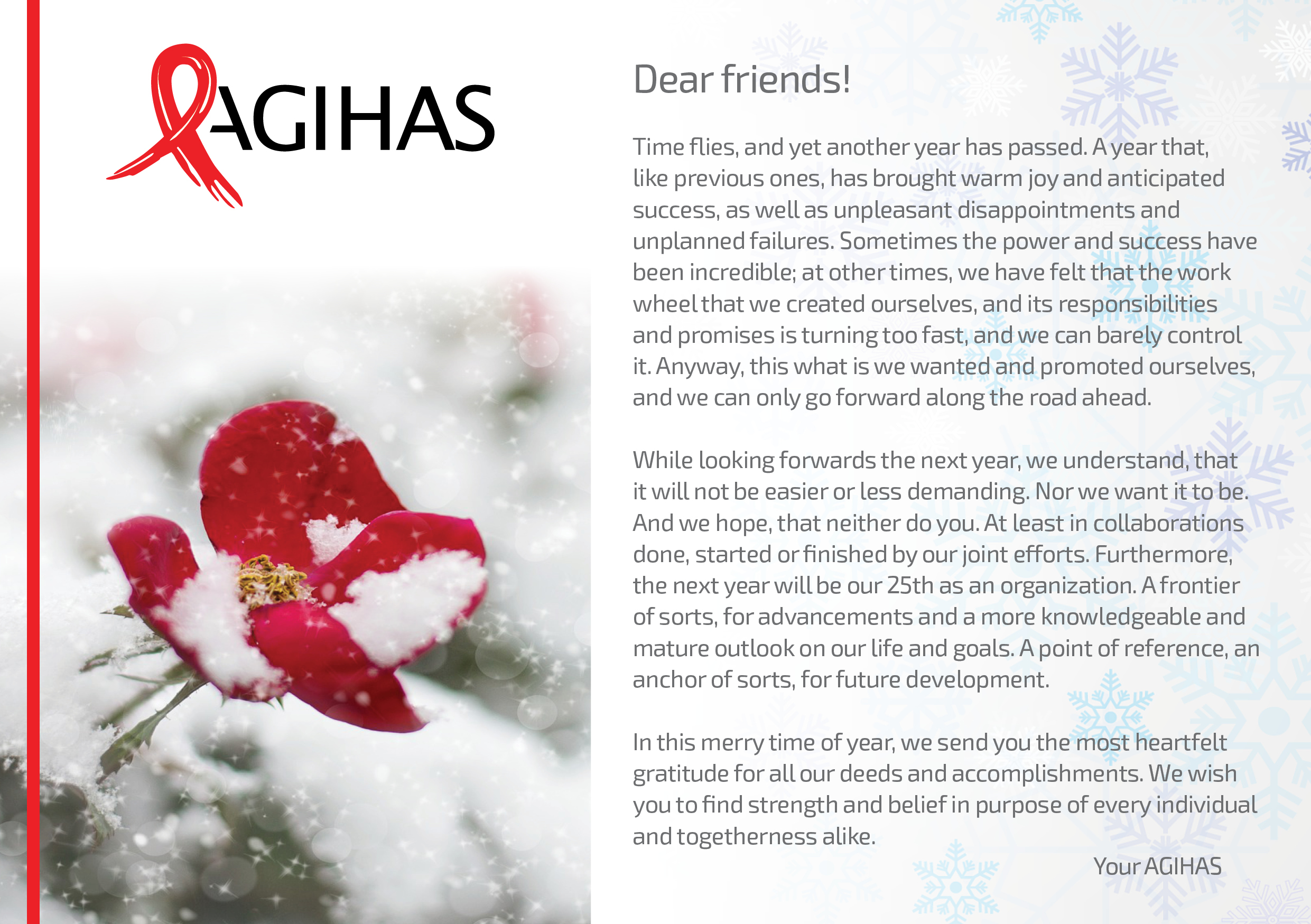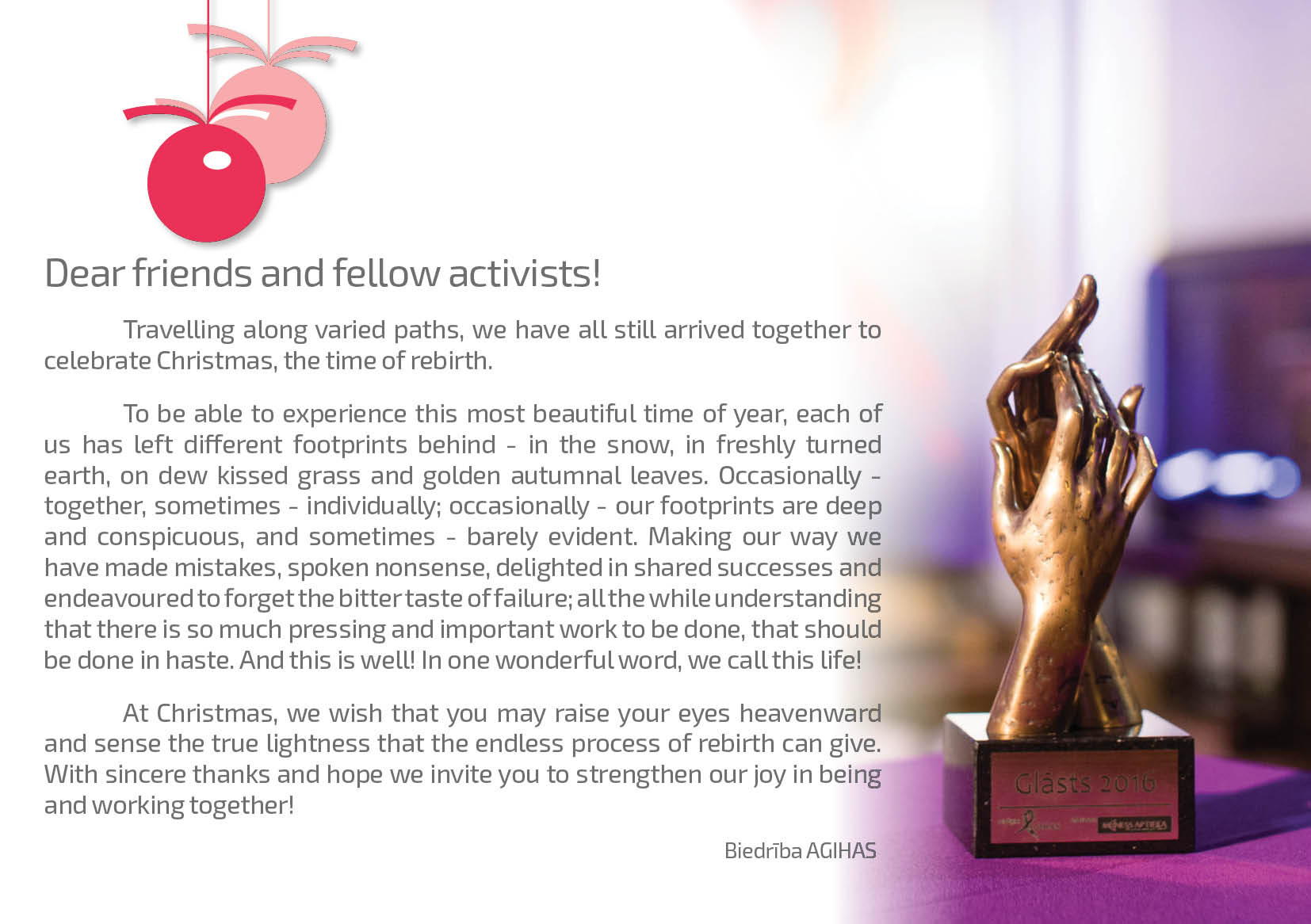 ---
---
The patient organization AGIHAS is a support group for those affected by HIV and AIDS. The organization was created in 1993 – at the time the first HIV patients were diagnosed in Latvia. For more than 20 years we are actively working to provide more opportunities for the patients to live a more active and meaningful life after the diagnosis. This is why we exist – so every single one of these patients can feel and receive the support and care he needs the most.  Since 1993 we have taken part in 137 international conferences and forums, organized 35 training courses and seminars, as well as carried out 50 various projects.
We implement our mission by focusing on our five main objectives:
providing social and psychological support to those living with AIDS/HIV and their relatives;
integrating people with HIV/AIDS into society;
ensuring general human rights for HIV/AIDS infected;
improving HIV/AIDS patient quality of life and advocating their interests in government institutions;
limiting the spread of HIV infection and AIDS epidemic.
The aim of our consistent advocacy activities is to remind to government of Latvia the real needs and wants of HIV patients and trying to improve the recent funding which makes Latvia to lag very much behind the other EU countries and neglect all the international ARV treatment guidelines. Recently we have started to focus on advocating the interests of HIV positive mothers and their infants.
Would you like to get to know more about us – please, contact us: agihas.lv@inbox.lv; agihas_ladies@inbox.lv
WOMEN. CHILDREN. HIV
15 life stories, 3 countries, 3 photo artists
Māris Grīnbergs (LV)
Külli Sparre (EST)
Irutė Jaruševičiūtė (LT)
The exhibition WOMEN. CHILDREN. HIV features works by three photo artists portraying the stories of 15 HIV-infected persons, thus encouraging us to think about our health and to become more understanding and compassionate towards those who have to live with the disease.
The aim of the exhibition is to make society stop and think: HIV can affect anyone. The disease is not inherent to some specific part of society.
This time – it's about women and children.
Statistics speak for themselves – each year more than 300 persons become infected by HIV, and approximately 100 get AIDS. Roughly half of the infected are women, and each year several children receive positive HIV results. The reality is harsh.
The painful truth is that the majority of those infected with HIV feel excluded from society and unnecessarily, from their families and friends.
Stereotypes. So many of them – an incurable plague that spreads with the speed of light, destroying everything in its wake. Due to strong biases and lack of knowledge, people's lives are crushed, their desires and dreams are killed and their hopes – dashed…
The spread of the virus can be halted, but is there a "treatment" to make society more open-hearted and equally humane to everyone?
Each story in this exhibition is special. Bitter. But full of hope.
*All works are artists' interpretations inspired by life story motifs.
Exhibition's opening (in Latvian &English) video link…
https://www.youtube.com/watch?v=ySvDcNgclt4
---

Māris Grīnbergs  (Latvia)
Māris Grīnbergs is a designer and a master of various technologies. He graduated from the Art Academy of Latvia, Department of Metal Design. Apart from metal design, he is immersed in advertising photography, video ads and animation. There was a period in his life when he used to give classes on photography technologies to artists and on composition to photographers without an education in creative fields.
I was invited to participate in this project because of the way I see people through the camera lens. I received five stories, and I knew that I would never have the opportunity to meet the heroes of these stories (at least not intentionally); as time went on, I realised that even anonymous correspondence was out of the question. However, in the end, this aspect helped my creative work more than the textual material…
After the picture is hung on the wall, the work of the artist is done, and there are no words left. I do not have any comments about each piece separately and I do not have the right to portray people I have no information about.
I see white innocence, black injustice, and the colour red as a symbol of the fight against the virus, and medicine, endless medicine…
A BRAVE BOY
Soon I will be celebrating my first birthday. Yes, I am very little, but also brave. My dad and grandmothers raise me, because my mum refuses to live with us. I don't know why. Maybe it is difficult for her to take the medicine which my dad takes also every day, and to play with me at the same time. But that is alright with me, because I see my mum several times a month. She visits me, chats a bit and is glad that I am healthy. My mum and dad have HIV.
When my mum found out that she was pregnant with me, she went to see the doctor and did the usual tests for pregnant women. That is when she discovered that she was HIV-infected. It was April 2015. Also, my dad went to get tested immediately and he got the same diagnosis last May. Mum started to take her medicine at once to keep me unaffected, but my dad did not need the treatment, since there was still a lot of CD4 cells in his body.
After I was born, I had to drink a special syrup to be 100% healthy. Now my analyses are very good – I am not HIV-infected. But my mum is still on medicine, and she will have to take it for the rest of her life. In a year's time my dad's analysis got worse, and since April he has also been getting the treatment – two pills in the morning and one in the evening. The medicine is very good, because the virus is not detectable in his blood anymore, which means that he cannot infect neither me, nor other people.
My dad is only 31, but he also needs to take other medicine when he has difficulty breathing, because he has asthma. My greatest wish is for him to be healthy. My dad is not sad, though. Not anymore. He was sad when mum left us. Dad thought he will not be able to make a family, because no other girl will want to live with him due to his infection. He did not even use alcohol for a week, and then he found an HIV support number. Since then the boys from the "AGIHAS" group are his friends, and now my dad is always happy and he exercises a lot to be strong.
He needs a lot of strength, because he cooks for me, and wakes up several times during the night to soothe me if I have woken up from a bad dream, and then he works during the day. He owns a business, and he studies history part-time since autumn. He likes to read a lot about ancient times.
In spring he met a beautiful woman. She was not scared of his diagnosis; she has a daughter who is older than me. Dad likes children, and he hopes that I will have a brother or sister someday.
We are a great family, and my dad has many friends. He told everyone about his disease, and none of them are afraid to meet us. Dad does not know when and where he got infected, because he has not done bad things, but now dad is very careful, and I know that I cannot touch our blood. It is alright. I love my dad very much. As he always says – life goes on and it is beautiful!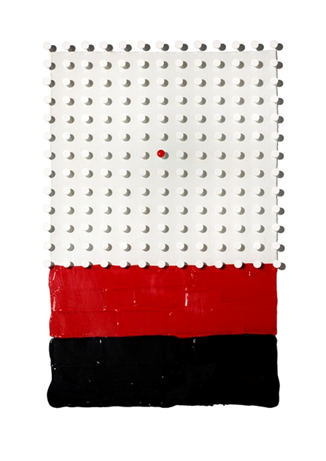 ---
YOU CAN PLAY BALL AND HIDE-AND-SEEK WITH ME!
I am 9 years old. I do not have parents, which is why I live in an orphanage, and I have HIV.
Everybody says that it is a terrible disease and people die from it, but I feel well. If I did not have to take medicine every day, I would not even know that I am sick. However, if I did not take medicine, perhaps I really would not have the strength to learn and play football. That is what the good nurse at the orphanage tells me!
She is the only one who is not afraid of me. She talks to me every day. We play a board game, and sometimes we build castles from blocks. She seems to me like a good granny, although I have never had one; I do not even know her name.
As far as I remember, I have always lived in an orphanage. When I was little, it was another orphanage, afterwards I got transferred and started to go to school there. Someday I would love to live in a family with a mum and dad, maybe even a brother and a sister, and a dog! But other children tell me that I will never be adopted, because I am sick and dangerous to others. They say that I can infect other people, and that is why no one takes me home. I do not believe that, because the good nurse tells me that if I use my medicine as prescribed I will never infect anyone.
The nurse and I visited a doctor in Riga, and she told me the same thing. We visit the doctor three times a year. She takes me to a room where they put a needle in my arm and blood comes out. They need the blood for tests to see if the medicine I am using is still doing its job and the bad disease is not spreading. My results are always good and the doctor tells me that I cannot infect anyone, but no one at the orphanage believes me.
They make me eat and drink from my specially marked dishes. They do not let me play with other kids. Once, when a bruise on my leg got healed, and I put my old Band-Aid on another boy's leg just for fun, and all of them went mad… Luckily, the nurse heard it. She said that the virus does not live in dry blood, it dies immediately once outside my body, and I cannot infect others so easily because HIV is undetectable in my blood.
Yes, sometimes I want to be stubborn, and then I say I will not take my medicine anymore, but the nurse always persuades me to take it. And I obey. I just hope that one day everyone else will understand – I am not dangerous, you can play ball with me and hide-and-seek, build houses…
I feel sad alone, and then I want to play all sorts of pranks only to get attention. But my greatest wish is to be well, to get adopted. Or perhaps there will come a day when they find my mum and she takes me home…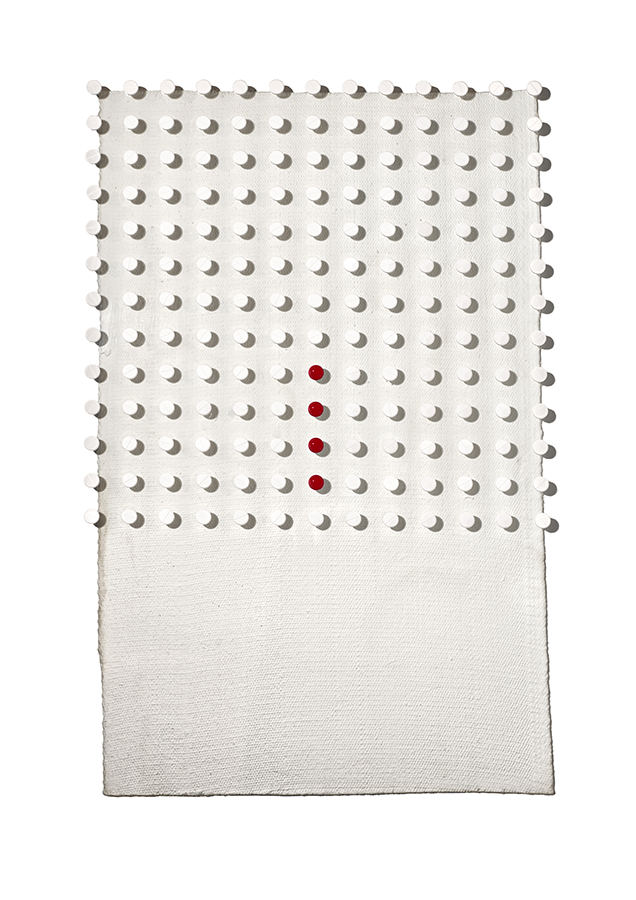 ---
THE ONLY THING THAT MATTERS NOW IS THE HEALTH OF MY BABY GIRL
I am 27 years old and I am pregnant with my first-born. Unfortunately, I have to take medicine, because during pregnancy I found out that I am HIV positive.
Unnecessary to say that the diagnosis came as a shock, and the happiness I felt when I found out about my pregnancy turned into a nightmare. Do not misunderstand me – I still want to carry my baby and give birth to the little girl (yes, I already know that I am having a girl), but I am not so happy and excited as I was when I saw the pregnancy test result.
Although I receive treatment and I know that my baby will be fine, because I registered with my gynaecologist early in pregnancy and did all the analysis, I am still greatly worried about my health and the future.
My husband left me soon after I found out about my diagnosis. We had been married a little less than four years, together we were truly happy, but then everything collapsed like a house of cards. Actually, I do not even know anymore if I could forgive him and continue our relationship; perhaps only for the baby. It turns out I got infected from my husband! He admitted it.
He knew that he was infected, but he did not tell me a word. I still do not know why. Maybe he got scared that I would get scared and leave him? But then why did he leave me? And our child? He knew that he was HIV positive, he knew he would infect me and that I would learn about it when registering with my gynaecologist!
Also, I cannot figure out where and when my husband got infected. We grew up in the same neighbourhood, we went to the same school, we even studied at the same university, but different faculties. I know that he did not use drugs, has not had affairs… he has several tattoos, though, and he was a great bully, as they say. Maybe he got injured during one of his fights and got the infection then. But if he knew about the infection, why did he not go to see a doctor and receive treatment?
I really have many questions, and my husband is the only one who can answer them, but we do not talk to each other anymore. We do not event discuss our divorce. I do not know how my life is going to continue. The most important thing is that my baby is born healthy. Since I receive treatment and I will have C section, there should not be any problems. My daughter will need to have a special syrup for some time, and I will not be allowed to breastfeed her. So my dream about being a happy, breastfeeding mum is gone. It is painful, but now the only thing that matters is the health of my baby.
I know that according to Latvian Law criminal liability applies for deliberately infecting with HIV, but I will not press charges. What is the point? In any way I will have to use the medicine for the rest of my life, because I will never be well again. Never! But I hope I will be happy someday.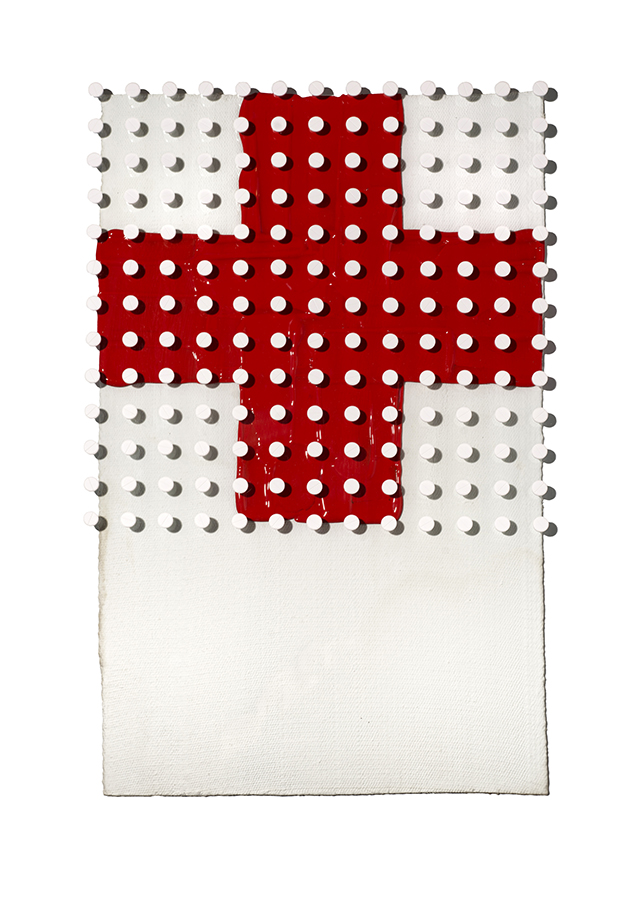 ---
HE SHOULD HAVE TOLD HER EARLIER
I am 8 years old, my brother is only 5 and we have a new home. We live with our aunt, our mother's sister, because our mommy and daddy guards us from up above. I know that they are there, that they see us and love us very much. Just like they always did.
Our daddy was the first to fall ill. Mommy took care of him, I also made tea for our daddy, helped him get up when he could not, and my brother and I tried to be as quiet as possible to help our daddy get well soon. But he did not. Our aunt told us that our dad had a very bad disease, called HIV, but he did not go to see doctors to get medicine.
Perhaps daddy was afraid that mommy would find out about the illness and leave him? However, if he had not been afraid, our mommy would not have fallen ill, because she also died from this disease. Although she went to the doctor immediately after finding out about daddy and took medicine, the drugs did not work. The disease had become stronger and made our mommy weak. I overheard our aunt telling our granny that mommy and daddy were already at the AIDS stage.
Had our daddy not been afraid and had he told our mommy about his disease, both of them would still be alive and we would all go to the forest and pick cowberries and would make apple-cowberry jam that my brother likes so much…
I hope my brother and I do not have HIV, I am very afraid of that; I read on the internet that it is a very contagious disease. I try my best to remember whether I have ever had any cuts and whether the blood from the cut had touched my mommy's or daddy's blood. But I cannot remember. When I asked our aunt if we have also this disease, she said that she is definite that we do not have it, but our aunt and granny do not want us to go see the doctor for tests. Yet I do, and when I grow up, I will go to Riga. I will search the internet for HIV doctors and will go and do the tests.
I really do not like such a bad disease that makes people die and children lose their mommies and daddies. It is so good to have a brother, however now he speaks so little and does not laugh anymore. It is also difficult for me to be happy, because I think about my family every day.
We had fun together, we laughed a lot and made pizzas on Friday nights, on weekends we went for a bicycle ride or had a forest walk. Now we do not go to the forest because our aunt is afraid of ticks, and we do not make pizzas anymore. My brother and I do not want it anymore. Now we try to be good children so that our mommy and daddy will be happy from up above.
---
I HAVE NEVER FELT CONDEMNED OR AVOIDED
I am 29 years old, have a university degree, a well-paying job and a diagnosis for good – HIV. I found out about the HIV six years ago, when I once again went to donate blood. I had done it countless times, but this time an employee from the Blood Donations Centre called me and asked to come in for a talk. Then they told me that I was HIV-infected.
I went to the Latvian Centre of Infectious Diseases the same day, where I got the final answer of being HIV positive. I felt extremely shocked. That day it felt like the end has come.
I got infected from my boyfriend of three years. Unfortunately, he did not deny being HIV positive, he did not take medicine and now he is already dead. At the beginning, it was very difficult, it took me several years to get out of my depression. Now I have accepted the fact that this diagnosis is for good. I keep on living my life to the fullest, receiving treatment and visiting the Latvian Centre of Infectious Diseases for check-ups every three months to control the progress of the disease.
I believe that people around me should know about my condition; fortunately, they treat me well, they support me. I have never felt condemned or avoided. However, I must add that there are still strong stereotypes in society, including regarding positions an HIV-infected person can or cannot hold, therefore no one at my workplace knows about my disease.
The virus does not live outside a human body, therefore no one can get infected just from talking with me. I have regular check-ups and I know that the virus is undetectable in my body. It means that I cannot infect others.
Since I found out about my HIV, I have had two long-term relationships, and I have always informed my boyfriends about my condition. I believe that they deserve to know this fact. I have not felt condemned at these moments. On the contrary: I have been supported, reminded of a healthy lifestyle and kept company during my visits to the doctor.
My current boyfriend and I want to have a baby, but I am scared that I may be the one in 10 thousand who gives birth to an HIV-positive baby, despite all the safety measures. I hope that someday I will be psychologically ready to make this crucial step and become a mum. Meanwhile I continue strictly following the preconditions of a healthy lifestyle – I exercise, choose healthy food, and have experienced many other positive things in my life due to HIV.
---

Irute Jaruševičūte  (Lithuania)
(Irutė Jaruševičiūtė)
Irutė Jaruševičiūtė is a professional documentary and Photo-Art-Therapy photographer. Irutė is currently studying Pastoral care (Catholic theology, psychology and social science) at Kaunas St. Ignatius Loyola University.
….Society lacks information. About the ways people get infected. Where, what, how and why… discussion is out of the question. If you're infected, you're guilty. Everyone is avoiding, afraid, they don't talk about it, they ignore it, don't listen, and don't give advice. Nobody holds their hands, nobody gives them love. They're completely isolated. Their closest ones turn away from them, their parents, brothers and sisters. Only some of them pluck up the courage to tell their parents about the disease. Often they are prohibited from sitting at the same table, sleeping in their beds, hugging and cuddling. They are deleted from life, from love, from hearts. They are simply deleted.
---
A WIDOW, MOTHER OF TWO
Elza. 32 years old. Vilnius.
Elza: "After graduation I got my dream job. I worked as a surgical nurse. I had the chance to help people. I was living a dream. I was feeling great, I never smoked, drank, I lived a healthy lifestyle and cared for the health of my loved ones. I had a loving husband, a well-known entrepreneur, a daughter and a lovely home. After all – my children were made with love. I was expecting the second baby. We were all eager to meet the new family member. We all loved the baby already during the pregnancy. Labour was approaching. Unexpectedly, I found out I was infected with hepatitis C in an aggressive form of HIV. I thought to myself, "This cannot be happening to me, it is a mistake. I cannot believe it, I am giving birth soon." My fairy tale life collapsed like a house of cards. What once was constant and safe peace turned into lies and deceit.
I quit my job without explaining why, because I knew that I will not be able to return there and work in the operating room, after all – I was in direct contact with blood there.
How did I feel? I started to feel terrible, penetrating panic. My child, my yet unborn infant! I was a living dead responsible for a new life. I did not even know how to take it all.
The doctor told me, "Only God can help you", and then turned away from me.
With a major effort I got out of the hospital bed, because I needed to go to the hospital chapel. I prayed to God to save my child. I prayed day and night.
My baby girl was born safe and sound.
Then my husband died. A little more than a year later he died from AIDS. Did I manage to talk with him and find everything out? No, I did not have the chance. It all developed very quickly.
Facts. It turned out that he used to be an inmate, because he was involved in drug trafficking. Elza did not know that. And his successful business was the same drug trafficking, only in disguise. He was well aware of his diagnosis, and did not use the medicine on purpose. He had been married before, and had also infected his first wife.
Did he infect you on purpose?
Elza does not say a word, but she nods.
Did you tell anyone about the diagnosis?
Yes, Elza retorts, to my mum.
I felt trapped in my body, I felt guilty without having committed a crime.
"I was completely isolated. My ongoing depression had exhausted my body, resulting in open wounds. They took me to intensive care. There they stared at me as if I were a criminal. At night, I prayed to God to let me die easily. I had no hope left. My mother was diagnosed with cancer. There was too much pain in my life. I had to choose.
And I started to breathe. I read a ton of literature about HIV, because I was floating in obscurity. Nobody explained anything to me, I did not hear any suggestions and did not receive any help. Nobody talked to me. I did not exist. I was forced to handle it on my own.
I was eager to help others… While working as a surgical nurse I met a patient who was HIV-infected. It turned out she was my husband's first wife. I took care of her. However, after my husband's death his relatives threw me out into the street, and we were homeless."
Who are you talking to?
To my mum, Elza says with a smile.
Elza – a beautiful woman. She is very open-hearted and you can feel calmness when talking to her.
What saved you?
Her response is immediate – Belief.
Are you alone now?
Not anymore, says the woman. I met a man who loves me and my children. He also knows about my condition.
Are you happy?
Yes.
What about your health?
I take the medicine, I am losing my hair a little. I am loved.
Would you like to add anything else?
Yes, every day I am thankful to God for my children and husband.
Elza stands up, shakes her long hair, which is still very long and says, "There is so much I wan
t to do."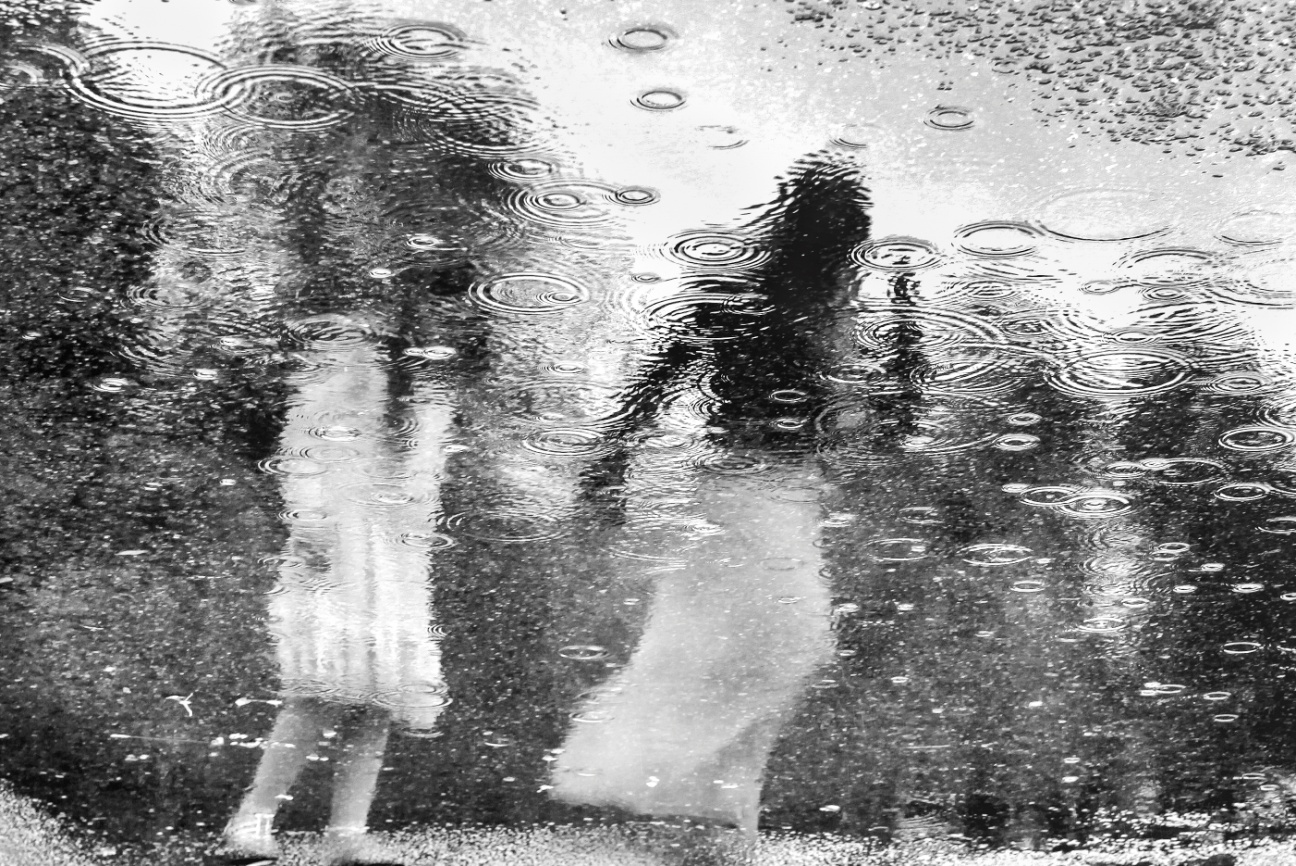 ---
GRANDMOTHER AND PIANO
Rasa. 28 years old.
A thin and a beautiful woman with the eyes of a scared doe. Her speech is fluent, cultural and pleasant. I would never imagine that I am talking to a person who still is fighting her addiction.
She grew up in a household full of arguments, fights and heated scenes. Her dad drank all the time, and terrorised her mother – he hit her, beat her and made her black and blue.
What are the worst childhood memories?
Rasa keeps silent for a long time. – To see my mum jump out the window.
Rasa lost her parents early in life. It happened during her youth when life was passing by. She was left alone in a two-room apartment. She was reserved and shy, but she was doing very well at school. She was careful and hard-working.
What are the best childhood memories?
Piano! Grandmother bought a piano, and I finished music school.
Left alone, she made new friends quickly. Dear, caring and generous friends. They seemed very polite and well-educated. Rasa, having spent her childhood in noise and screams, having suffered hunger, was happy at last. She trusted her new friends. One morning everything turned upside down. She woke up all beaten and bloody, with a broken nose. Afterwards everything was a blur. First drugs with "friends", alcohol and then worst of all – the feeling that life can only be like this. Those "nice" people were the garbage of the criminal world. Rasa has lived this way for quite some time now. She cannot even remember how many times she has had beaten ribs and jaw. She cannot remember how many times she has been in a hospital.
Did you try to escape?
Rasa stares at the window for a while. – To where?
When everything had gotten too far out of hand, Rasa received a shocking diagnosis – thyroid cancer. Her beautiful neck is all scarred, not to mention her jaw, which has been distorted several times. The illness retreated, however, but she will still need to take strong medicine her entire life.
So you got better and started living differently?
Yes, says Rasa. I got married.
To whom?
She tried being laconic. – To a friend…
It was one of those "good" friends.
Rasa: Then I found out that I was pregnant. I realized that I was not dying, at least for the moment, and despite it all – I was holding on! I so much wanted to change everything, I so much wanted to protect my baby from going through everything I had gone through. I tried to change, and then he started to beat me. Every day. I felt like a thing. He sneered at me, he sneered at my belly, my pregnancy, at the fact that I wanted so much to change because of the child.
Was he using drugs?
Yes, he was in prison. He used drugs and he made me do it, too. After you have tried drugs, you are ready to give everything up for it.
She tried to escape a few times, but he caught her. And then he beat her up even worse and mocked her even more.
Did you look for help?
Where? Rasa asks. I was completely alone. After my grandmother died, I was even more alone.
When did you find out that you were infected?
During pregnancy, when I went for a regular check-up. The doctor told me I was HIV-infected, but told me in such a way as if I had caught cold.
Facts. The husband knew he had HIV, and he infected the expecting wife on purpose.
Rasa: I do not remember which month of the pregnancy it was, but I was crawling down the street aimlessly, simply crawling. There was a woman in front of me, in front of a door, she bowed before the door and walked away, and her face was so happy, so bright. And I went through that door. There was a church inside. Afterwards I went there voluntarily. There I repeated the words my grandmother had taught me. I prayed to God to save our lives.
Rasa gave birth to a son. But nothing changed at home. There were drugs, fights and bullying. Rasa tried to divorce. The husband would not let her, unless she gave him the apartment.
Rasa: I tried my best not to use drugs for the good of my son and myself. I lived in psychological warfare. I do not know how I got through it. I refused to use, clenched my teeth. I did not have any hope for a better life. One day I had a hit, and that was the day the commission came. They took my baby away from me.
Facts: The court ruled that the son should be raised by his father.
Rasa: But the court knew I was intentionally infected.
She has run out of words, nothing comes to her mind. Rasa met a guy who knew about her diagnosis. They visit his parents together; Rasa is welcome and loved there.
Rasa: No, we have not told his parents about me, they would never accept that, they are such good people, but no… they are not ready for that…
I tried to invite Rasa to a café. Would you like to have dinner, Rasa?
Me? No, no. She responds quickly, waving her hands.
We talk and I take hold of her hand. The woman startles. – What is wrong, Rasa?
No one ever touches me, I mean, us. Even our parents do not touch us. I do not have parents, but other parents do not touch me either. They are afraid.
How would you like to live? I ask her.
With my son. I believe that someday I will live with my son. I survived cancer, my son was born without cancer. We have to live.
What good memories do you have?
Her expression changes. She whispers, My grandmother and the piano.
Rasa: You know, I watch my son behind the kindergarten fence. I so much…
She keeps silent, she searches her handbag and pulls out a teddy bear…
I will try, I tell her. I will.
I go home with the teddy bear for her son in my hand.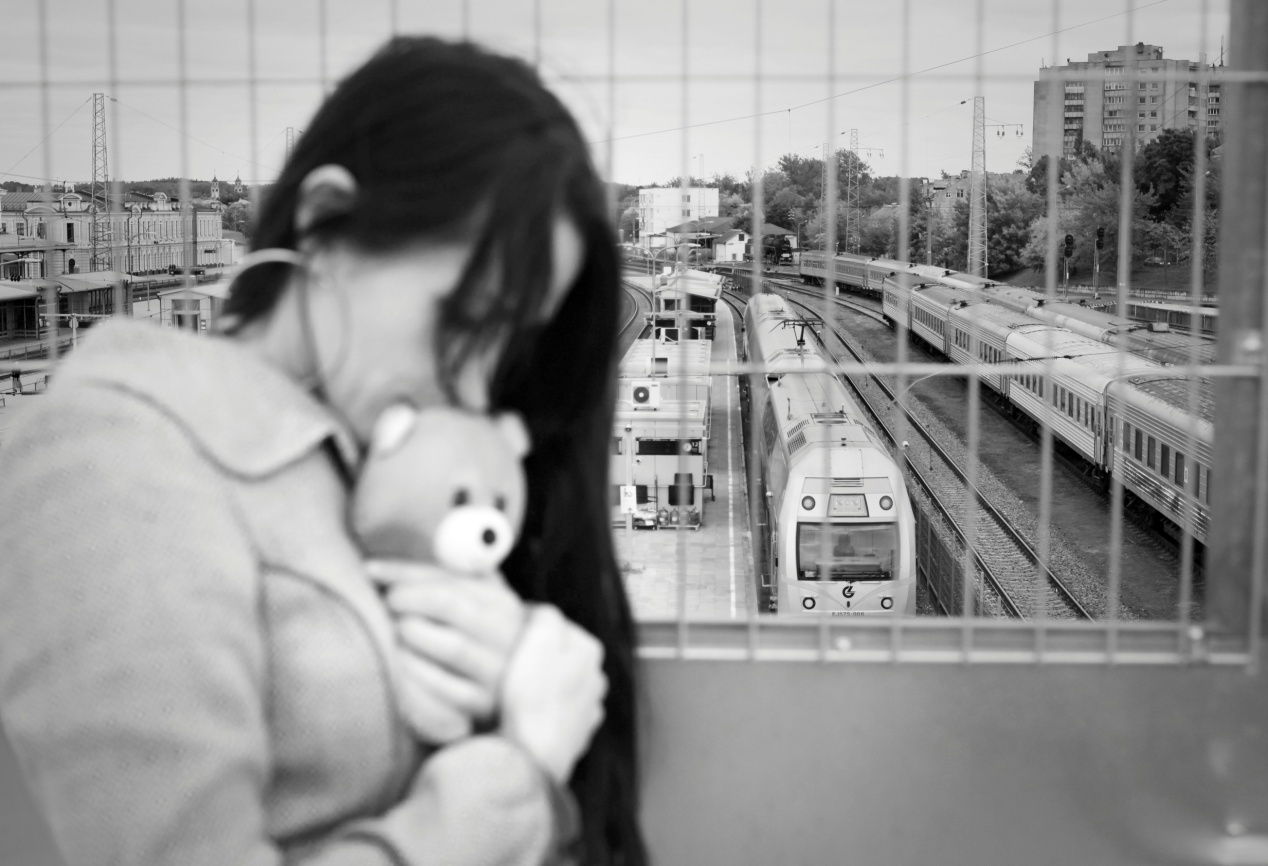 ---
A MOTHER OF SIX WITHOUT THE CHANCE TO BE A MOTHER
Alīna. 38 years old. Vilnius.
I know that I am about to meet a woman who has given birth to six children. I expect a motherly looking woman with grim stories. Instead I meet a girl in a pink jacket. She is small, skinny, she looks like a schoolgirl. Upon approaching I understand that the girl is Alīna. I see the mark on her face. Sometimes these marks are caused by suffering or sins, but most often – by drugs. Her facial skin is smooth, as if it had not aged. That is a face of a young girl.
Alīna: I live with my mother and sister. My mum got divorced, I never knew my father. My sister and I were loved; it was a good life living with mum. All was well. It was my last year at school. I had a really bad headache that day, my friend took me home. She said she would help me get rid of the headache. Help she did. That was my first hit. Then followed another one. It took me two hits to become addicted. I quickly befriended a lot of happy people. We partied, travelled and used together. We were "insiders". We celebrated life. I was 18 when I gave birth to my first boy.
Who was the father?
What do you mean – who? A friend, Alīna responds in disbelief. He fathered three children, all boys.
She talks to me, but it is difficult to listen. Her expression is blank, as if someone has erased it with an eraser.
Alīna: All the children have little age difference. The eldest is…
She thinks, but cannot remember how old her child is. Then I prompt her – if you were eighteen years old when you gave birth to him, he is twenty now. The woman with a childish surprise on her face says – so old?
Alīna: Then there was the third child. I raised all three of them, of course we used, there was no other way. I raised them for six years.
What about your family?
Alīna: I do not talk to my sister; we are not on the same page. Mum is good, though. She loves me no matter what. She is good.
So, you gave birth to the fourth son?
Alīna: That was from another man. Hits became bigger, we needed more and more. I left the fourth at the hospital.
You left your new-born?
Alīna: They took those three away from me, what would I have done with the fourth child… so I left him.
Her speech is calm; she does not worry. But I can tell that she is lying sometimes.
Alīna: Somebody adopted that baby.
When did you get infected?
Alīna: I was two months pregnant when I found out. It was scary, but the baby was born healthy.
How did you feel, were you not afraid?
Alīna: I was. I cried. I told my mum. She did not judge me. She was good to me. They did not keep me in the hospital, they did not want to keep the infected ones. So I left, infected. Later on, I told my friend.
What did he say?
Alīna does not get the question, so I repeat,
How did your friend react?
Alīna: Well, he got infected as well. He got it from me. But he was not angry. And the baby was born healthy.
All of a sudden she recollects and starts asking me why she needs to use the HIV medicine constantly. She does not really understand the gravity and consequences of her disease. That way it is easier for her.
As far as I know, you have two more children?
Alīna: Yeah, yeah. A boy and a girl. My baby girl lives with my mum. I cannot visit her, but sometimes I do.
Such is the grey, indifferent story of the mother of many, whose status as a mother has been almost taken away.
We go to a toy shop, she touches toys.
Do you like it? I ask her. Let's buy it for your baby girl!
Alīna looks foolishly at the toy in her hand, the toy slowly slips out and falls to the floor, but does not break.
Alīna: No, no, you should not, it is expensive.
She even startles at seeing the price.
What else did I not mention? All through our conversation her phone was ringing off the hook. She picked it up and said to call back later, but the voice on the other end was persistent.
Alīna, what is the matter? I asked her. She comes closer, plucks up her courage and says…
Alīna: Lend me two euros.
And off she goes, a mother-not really a mother of six, a girl with an erased face.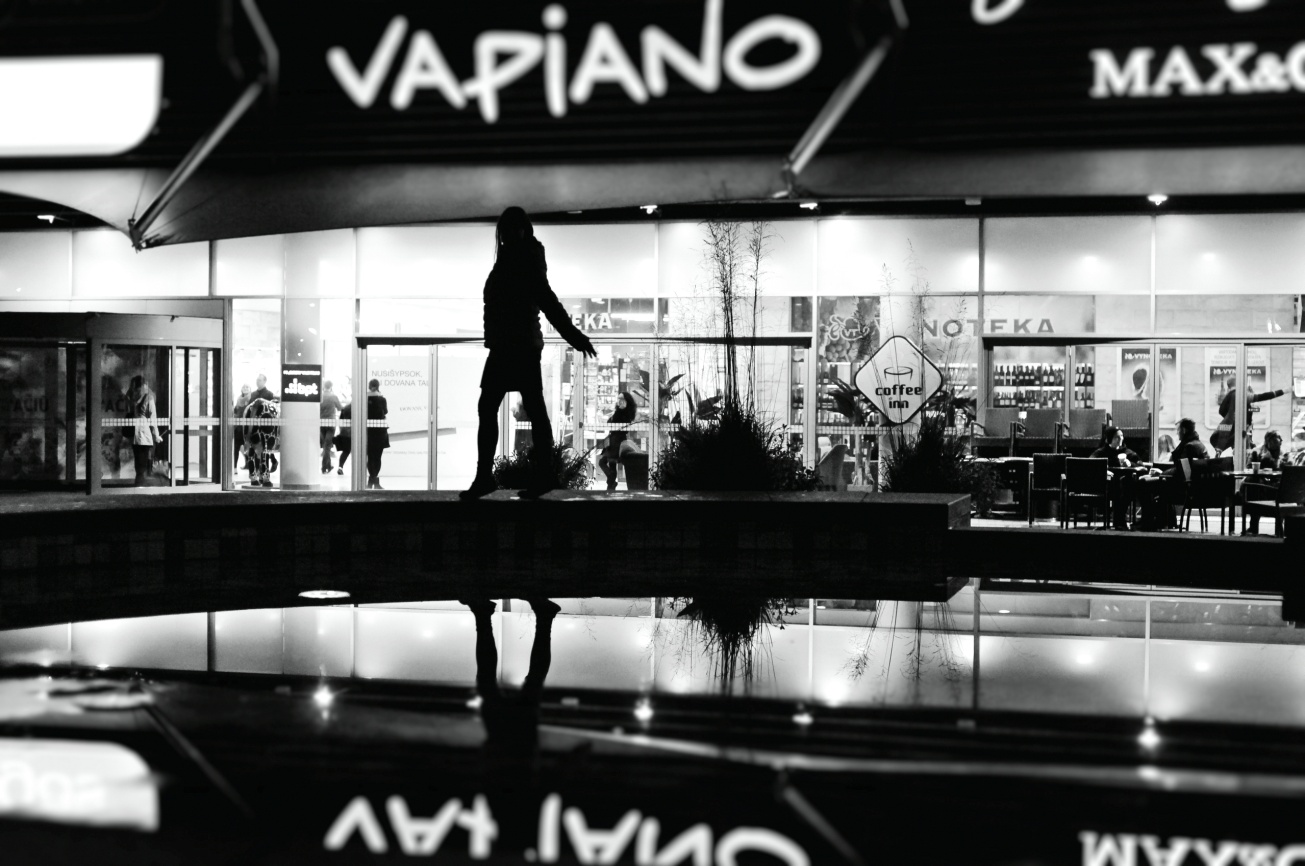 ---
ISOLATED FROM LOVE
Lena. 28 years old.
Thin, tremendously self-confident. As if she knows her self-worth in a sea of absolute worthlessness; her core is so badly rotted that she does not even know what to expect. Everything is soaked in hopelessness. There is only acceptance for who you are now, not for who you were or could have been. Just like going with the flow; it is easier that way. She tries not to show who she has become, but in reality everything is obvious. She is accompanied by a new "pimp". They never let her go alone, if you know what I mean. If she is a drug-addict, there is no surprise to see her desperately smoking a cigarette with her hands shaking. Inhale quickly, quickly. Simply inhale the drug vapours, while being somewhere else, doing something else, she could be doing something else with a guard, because she does not exist alone. Neither without the guard, nor without a hit.
Lena: I grew up in a very wealthy family. My parents did everything to provide us with anything we needed. I was loaded. Exclusive clothes, brands, bicycles, make-up, gym, SPA. I had everything I wanted. I travelled, partied, tripped. Everything came too fast, too early and it was too much.
Lena takes out another cigarette before finishing the previous one, she lights the new one. Her pimp is very useful. He notices everything – when to help to light a cigarette, when to act. Lena does not even look at him, she does not look at me, either.
Lena: My parents did not notice me, they did not even try to notice me. I was almost like an invisible child. A girl who had everything:
I have all of it, all of it, all of it,
A mama, a papa, a doggy and a CD,
A room full of dresses,
Boxes full of shoesies,
I can dance, smoke and walk,
But I cannot love you, mama.
She recited her "mantra" somewhat oddly, with clenched teeth.
What happened to you, Lena? Where did your wealthy lifestyle go?
She immediately gets goose bumps on her arms, she pulls herself deeper in her small leather jacket. She reaches for another cigarette. Her pimp is once again very useful.
Lena: They did not notice me, if you know what I mean. They gave me everything and they collected everything – even soap. We did not talk. Ever. I was jealous of my classmate, whose mama always kissed her and waved goodbye. My mama never hugged me, ever. We did not have any connection. And I rebelled against them. I stopped obeying. I spat on this great, loaded life, I rebelled against it. Every morning I woke up in a different place. The first hit and trip, the feeling of freedom and eternity. I became powerful and free, my confidence grew. I did whatever I wanted to do – I drank, I smoked, I used drugs. Then came prison. And again, and again. Then I found out I was infected. HIV. Hepatitis. You know, I was in school when I first heard the word "infected". There was this girl who had lice. I was the only one who was not lice-infected. Lena's eyes were full of tears. She dumped the unfinished cigarette. Her skinny shoulders trembled.
Were your parents informed? Did you tell them?
Lena: I plucked up the courage to tell them about the hepatitis. I am sorry I told them.
Why sorry?
Lena: Because I became invisible again. They ate from separate plates. They used only their own exclusive bed sheets. I became isolated, utterly isolated from love, compassion and closeness. My parents were terrified of me, they turned their faces away from me, their hearts never opened again.
Did not open to what?
It seemed that Lena did not hear my question, because she knew the answer. She stopped, as if stretching her frozen joints. She coughed and gave a simple answer – to love. Their hearts did not open to love. Got it?!
Do you still talk to your parents?
Lena: My papa died.
What about your mother?
Lena: She is afraid of getting infected.
Where do you see yourself in future?
Here I feel that Lena does not want to talk to me anymore, she is shaking, I guess it is time for another hit and she cannot miss it.
Lena: I do not have a future. Maybe it is here, at the station…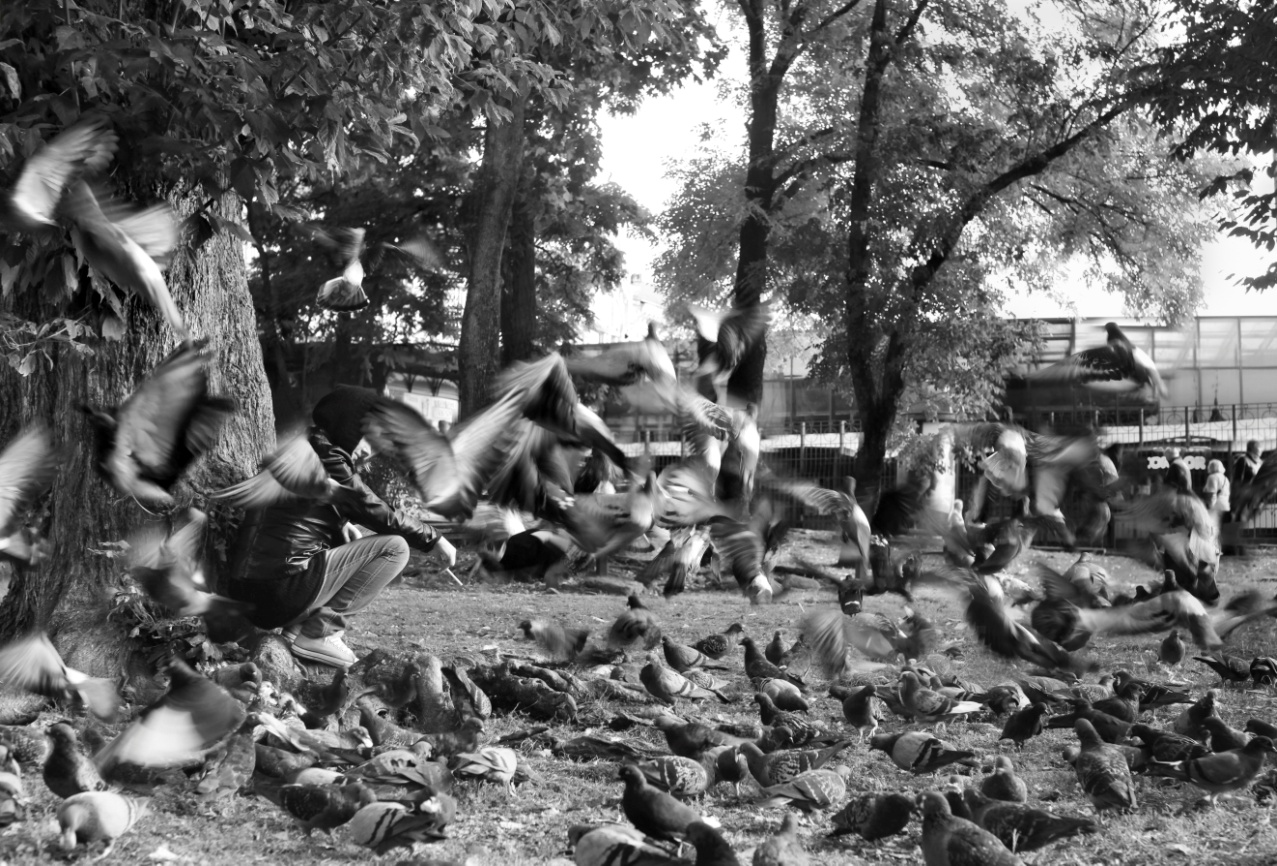 ---
I WOULD LIKE TO BE A MUM
Ina. 56 years old.
Her facial skin is smooth, almost without wrinkles. She has just had a hairdresser's appointment. She has been preparing. She is a mother of four.
I see that she has been preparing, she has been waiting for the meeting, a little nervous. We talked for three hours.
Ina: I just got out of the big house. That is my way of living – going from one prison to another, almost all my life. I am a traveller.
She fidgets, straightens the edge of her clothing, and tries to relax when talking about her children.
Ina, you have four children!
She does not say anything, her eyes stuck to the floor, but I can see her eyeballs moving.
My husband became addicted to drugs. I loved him. I remember the day he came home and told me – I am sick. At first I did not understand. The word HIV is somewhat huge and burdensome, unbearable. My reaction was terrible. I thought I would lose my mind; I got this hammering sensation in my head: HIV, HIV, HIV. It would not stop and the only thing I wanted to do was to fall asleep, to forget, to not think and not feel.
A half-year later I found out that I was sick too, but I reacted somewhat easier. Perhaps I was already prepared for that. I had lived for very many years with that man. Our life was smashed to small pieces, irreparable. And we used to have everything. But I was falling deeper and deeper, I did not feel anything and did not hear anything. I forgot that I was a woman, a mother. I did not want to live anymore. My life was mainly based on the hope to get a hit. The only thing I cared about was – how much do I need, how can I get it and where?
Ina, what about your children?
She turns away somewhat oddly, stops talking.
I understand that she is trying to start a different life. She even tries to help others. She is well aware that it is important to listen to somebody in such a misfortune. And she does listen. There is some hope. If I did not know, I would think that she is an innocent woman talking to me, but when she is silent, her silence is excruciating. She does not say that word – hard.
Ina: My son, the youngest one… I was trying so hard to give him everything. I was looking after him, so that his clothes would always be clean, that he would have a phone, I …
Now I understand how important this child is to her and that she would like to be a mum.
What made you live on?
I started to pray. I prayed for my child. At first, my sister took him in and cared for him. Afterwards he went to live with a foster family. They live abroad.
My friends started to drop like flies, one after another, due to the drugs. It was terribly depressing. When I pray, I feel like my child is standing next to me. You may think it is strange, but that is how I feel.
How do you feel?
She answers as if in a hurry, "I have been sick for a long time, medicine makes me weak, I try to survive."
Do you have hope of ever meeting your son? Ina, do you…
She interrupts me and quickly rattles off.
Ina: He found me, he contacted me via Facebook, and he accepted my friend request. He hardly speaks Lithuanian, but I translate. My child is very handsome. He dared to write to me. It means that he is not ashamed of me!
I see the woman's burning face, so much hurt in life, but she still has some hope.
Where would you like to go? – To the church, she says.
What would you like to do? – To help those who have lost their hope.
And?
The woman softens her voice, – and… I would like to be a mum.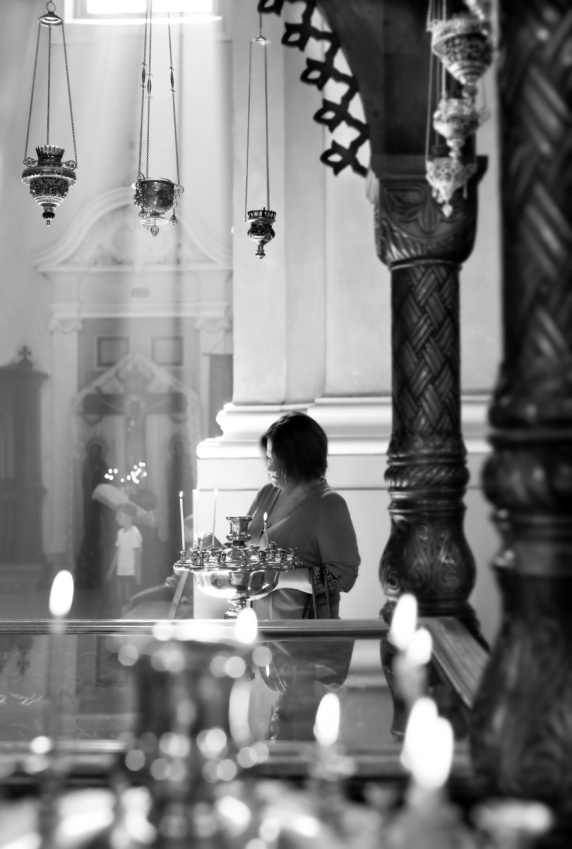 ---

KYLLI SPARRE (Estonia)
Most important in my work is to try to portray emotions  that I am not able to express any other way. I use everything I can to achieve it, more precisely  –  photography, dance, dreams and post-processing.
For all these five images I used the same techn­­ique. I photographed the people all through a cotton sheet, a bed-sheet basically. I chose this for a few reasons, but most importantly because it allowed me to portray the anonymity that is so important to the people in these stories.  In post-processing I added textures which created a kind of painterly and a bit dramatic look, that I felt suited well for this project. This project and these stories confirmed something to me that I have often thought about – life is sometimes more complicated than fiction could ever be.
---
THIS TIME LIFE PLAYED A BAD TRICK ON ME
I am 37 years old, divorced and a single mother with a son. I am a CFO at a large company, I have a master's degree in economics and a diagnosis for good – HIV.
It has already been 4 years since I had this disease. I got it from my boyfriend. He was a southerner, our relationship began on a romantic note with a promising look to the future. I was the one who ended it.
I started to notice that my boyfriend was using strange medicine. I had not seen anything like it before, even the name did not mean anything to me, so I googled all the information available. It was then, that I understood that it was for HIV/AIDS treatment. He was already at the AIDS stage, therefore the medicine was not effective enough to kill the virus and to prevent my boyfriend from infecting others.
I went in to get tested the next day, and it turned out I was HIV positive. It was terribly shocking. Especially since I am well-educated, I know a lot about different illnesses and diseases and how to protect myself from them, but this time life played a bad trick on me.
What hurts most is the fact that this man did not even try to protect me from getting the infection from him and did not mention that he was infected, and did not care about using condoms.
Now, I am on medicine, and HIV is undetectable in my blood, which means that I cannot infect others, but I am still very careful. Especially, when I am with my son. A few years ago he fell seriously ill, and I started to panic, I thought – maybe he has also gotten the infection in some way. Luckily, it was only a serious case of a cold with side effects. My child is healthy!
Recently, I found out that the man who turned me into an HIV patient, had passed away. As I mentioned before, he was already at the AIDS stage. I knew that his days were numbered, but it still feels disturbing, and I cannot stop thinking that due to this disease my life may end up shorter than if I had not been infected. At the same time, I understand that the treatment works, and if I use my medicine as the doctor has prescribed and check myself regularly, everything will be alright. I try. A lot.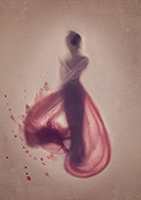 ---
ONCE WE LEARNT ABOUT THE DIAGNOSIS, WE GOT BACK TOGETHER
            I am a university professor, I have a PhD, I am 50 years old and HIV positive. I got it from my husband of 26 years.
We both receive treatment, the virus is undetectable in our blood, so, basically, we are healthy people; physically we feel good, we travel together a lot, but neither of us can accept this diagnosis. This is why we have not told our children about it. Yes, they do not know we are infected, and we live in endless fear that they may notice the drugs we use, and understand that we have HIV. If it happened, I would never be able to get over it…
When I fell ill, at first I thought I had cancer. I felt extremely bad, and was on sick leave for a long time, but after undergoing examinations I found out the real reason behind my health issues – I was HIV positive.
How did my husband get the infection? I believe, it was during one of his affairs. Yes, he has had several women during our marriage. I even know one of them, and at the beginning I thought that she had to be the guilty one, but the tests showed that she was HIV negative. So, the source must have been somebody else I do not even know about.
We lived separately for several years, he was often on business trips, and still is, therefore it is impossible to know of his whereabouts. Since we learnt about our diagnosis, we got back together. Grief unites, as they say. However, I think that we only got back together to not be alone, because – who else would have us with such a diagnosis. And – do we need that?!
This disease has taught me to seize the day. Every morning when I wake up, I mindfully take in the fresh air, and I am truly happy that I am alive; I feel good about going about my day, talking to my children, meeting my friends and just breathing and laughing. We usually don't pay attention to these things, we only see their true value when faced with serious challenges in life.
I would be lying, if I told you that I am happy with my husband or that I have forgiven his infidelity and the consequences which have affected me. It is difficult to get over the bitterness, resentment and betrayal inside me, but I try to not think about it and enjoy my life.
HIV diagnosis is forever, I cannot change it; I just have to live with it. I hope I will be able to hide it further on in life, to protect my children from going through the same dreadfulness as I did, after learning about the diagnosis.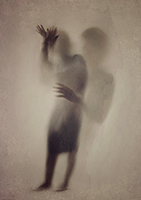 ---
I SO MUCH WANT TO LIVE!
I am 37 years old, 20 of which I have been HIV-infected. I am one of those women who got infected by using drugs. As I like to say – by being stupid.
Early in my teenage years I got into a group where smoking weed was cool. We smoked at every single party, and I did not want to be the odd one out. Once, twice, three times and I got addicted. I continued to smoke daily, until one day I switched to intravenous drugs. That is how I got infected, because at that moment you do not think about your safety or health. We generously shared needles, they went back and forth.
I was a little over 20 when I understood that enough was enough, I did not want to be dependent on the drug-induced temporary illusionistic thrill always followed by great torture. Thanks to my family and the good people at rehab, I somehow got out of that hole, where I had started to fall in deeper and deeper; I slowly began to take care of myself and my health as well. It took time to recover and fully get rid of the signs of drug use on my face. However, there is one thing that will always remind me about those times, it is HIV.
I regularly see my doctor for check-ups, I use medicine as prescribed and try to live as healthily as possible. Yes, I am married to the most fantastic man in the world. He is also HIV positive. We met at a support group camp, and since then not a single day has passed without sharing a conversation. At the beginning we only talked on phone, but soon we understood that we wanted to meet, and after that – to spend the rest of our lives together.
At first, HIV sounds dreadful, and for someone who has no idea about it, it might seem like a death sentence. I have heard people talk about it that way. But I am the best HIV-infected example – you do not die immediately, and if you really want to live, it is no death sentence at all. Me and my husband, we want to live, we also want a child. We know that our baby will be born healthy, because I will use my medicine as prescribed; moreover, HIV-infected mums usually have a C-section.
I hope my husband and I will continue to live like this, that we will live happily ever after, just like they said on our wedding day, and soon we will bring the exciting news about the baby to our closest ones. Life is beautiful if lived with a clear mind.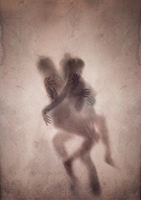 ---
PERHAPS I MAY LIVE A LONG LIFE
            I am 34 years old, and I have been HIV positive for 6 years already. I went through a bad break-up from a man who I loved endlessly, and had promised to take him to be my husband and love him forever with all my heart. However, our happy marriage was destined to last for a little less than three years. I gave birth to a baby girl, and some time after that he left us.
At first, I thought I would not be able to love again, but in less than a year I started to feel butterflies inside my stomach despite the deep, cold winter outside. I was madly in love, and I could not, in my wildest dreams, imagine that my boyfriend had once been a drug-addict and may be infected with anything, especially, HIV. Also, I believe that if you love someone so much, you must trust him. Unfortunately, love is blind, and mistakes made out of such blindness can lead to serious consequences affecting the whole life. It was the case that my boyfriend was indeed HIV positive and he infected me, because we did not use condoms.
I broke up with him. I do not know what I was thinking, but after learning my diagnosis I instantly fell out of that great, devastating love and I was able to see the true colour of reality. It was harsh – I had a little girl on my hands, I had received the shocking news about my life-threatening disease, I was once again betrayed and I cried. Alone. Silently. So that my baby would not hear.
After getting over the first moments of shock I could finally listen to what my doctor had to say, and then I understood – if I use the medicine as prescribed and regularly do my check-ups to control the progress of the disease, I may live a long life.
As a patient, I am very obedient, the treatment is effective, and, once again, despite my hopelessness, I have met a man, we have been together for almost five years, and we have a baby son who is already two years old.
I only plucked up the courage to tell him about the disease after several dates. My boyfriend was truly shocked; I expected no less, however he did not mention ending our relationship even once. Instead, after having digested this information, he arrived at my doorstep with a huge bucket of roses, and told me he loved me and wanted to support me, to visit my doctor together, to follow up on my treatment, and whether I use my medicine…
We feel good together, my daughter is happy to have a little brother and a new dad. We are not married yet, but I am sure it will happen one day. It will be a beautiful, sun-lit day when we inscribe our love in the Big Book of Lovers.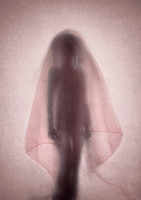 ---
A TALE ABOUT GOLDILOCKS
"Life was like a fairy tale.
Until her Lover fell seriously ill and soon died
The life of the beautiful Goldilocks was crushed… "
To me this story is most of all about resilience.  After devastating events, she was able to get back up and make a new life for herself. And a life that is not full of horror, but a fulfilling and enjoyable one.
This image is about embracing the sorrows of these unfortunate events, because without fully experiencing her feelings, it would have been impossible to move forward.